Best camera smartphones of 2020: Samsung , Vivo and more
If you are looking for a new smartphone with good cameras like samsung vivo poco and more in 2020, here's a list of the best camera smartphones that you can choose from.
One of the major improvements we have seen on smartphones is the set to cameras on the front as well as the back. Smartphone manufacturers have started including more sensors on the back to offer ultra-wide, night photography, super zoom capabilities and much more. The smartphone cameras have grown to an extent where users do not really need DSLRs until they are doing professional photography.
Samsung Galaxy S20 series
Samsung recently launched its flagship Galaxy S20 series here in India. The series consists of the Galaxy S20, Galaxy S20+ and Galaxy S20 Ultra. While the regular S20 and S20+ already have a great set of cameras, the S20 Ultra takes things to a whole new level. The non-Ultra variants bring 30X zoom capabilities to the table whereas the Ultra brings a 108MP primary camera on the back and has a periscope lens that can zoom up to a 100x.
Samsung Galaxy S20 comes in with a price tag of Rs. 70,499 whereas the Galaxy S20+ is priced at Rs. 77,999. As for the Galaxy S20 Ultra, it will set you back Rs. 97,999.
Apple iPhone 11 series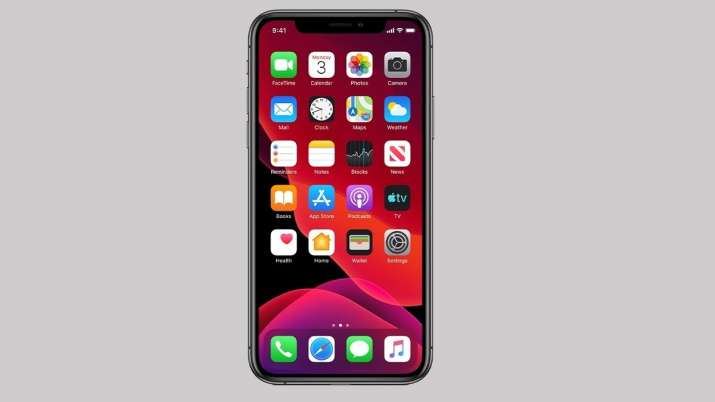 Apple iPhone 11 series offer great video recording capabilities.
Apple recently launched the iPhone SE 2020. However, if you want the best camera experience on an iPhone, you will still need to look at the iPhone 11 series for now. Apple iPhones are known for good video recording capabilities. So, if you are going to record a lot of videos on your phone or you are planning to vlog a lot, you cannot go wrong with the latest iPhone series.
Apple iPhone 11 is available in India for a starting price of Rs. 69,990. iPhone 11 Pro and iPhone 11 Pro Max come in with price tags of Rs. 1,06,600 and Rs. 1,17,100 for the base models.
OnePlus 8 and OnePlus 8 Pro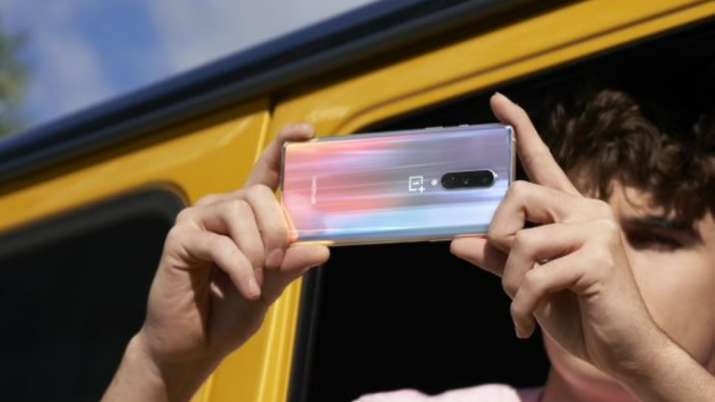 OnePlus 8 series is available for a starting price of Rs. 44,999.
OnePlus has recently launched it's OnePlus 8 and OnePlus 8 Pro smartphones in India. Unlike their predecessors, these are two premium smartphones that are actually competing against the likes of the iPhone 11 and Galaxy S20 series. This also means that the company has significantly improved the cameras on these smartphones. Both the OnePlus 8 and 8 Pro feature 48MP primary cameras at the back.
While the OnePlus 8 is available for Rs. 44,999, the OnePlus 8 Pro will set you back Rs. 54,999.
Vivo V19
Vivo V19 was recently launched in India. Just like its predecessors, this one also concentrates a lot on the cameras. The company has added features like Super Night Mode, Art Portrait Video, Pose Master, Shot Refocus and more on the software front. On the hardware front, the Vivo V19 sports a 48MP quad-camera setup at the back and a 32MP dual-camera setup on the front. 
Currently, the Vivo V19 is available in India for a price tag of Rs. 27,990.
Poco X2
In case you are on a tight budget and need a good camera smartphone under Rs. 20,000, you should check out the Poco F2. The smartphone features a 64MP quad-camera setup at the back. Alongside a good camera setup, the phone also brings in a 120Hz high refresh rate display, Snapdragon 730G and more for a starting price of just Rs. 16,999. 
Follow us on kora-now
Microsoft won't sell police its facial-recognition technology
SEATTLE — Microsoft has joined the list of tech giants that have decided to limit the use of its facial-recognition systems, announcing that it will not sell the controversial technology to police departments until there is a federal law regulating it.
The move, which Microsoft President Brad Smith confirmed at a Washington Post Live event Thursday, follows similar decisions by Amazon and IBM as protesters nationwide press for an end to police brutality and racial profiling.
Smith said Microsoft has not sold its facial-recognition technology to police departments. And the company has backed legislation in California that would allow police use of the technology with some restrictions.
Amazon bans police use of its facial-recognition technology for a year
"We will not sell facial-recognition technology to police departments in the United States until we have a national law in place, grounded in human rights, that will govern this technology," Smith said.
The company plans to put in place "review factors" that Smith said would "go even beyond what we already have" to determine the use of the technology beyond law enforcement.
"The bottom line for us is to protect the human rights of people as this technology is deployed," Smith said.
The decision by Microsoft comes a little more than two weeks after the killing of George Floyd, an unarmed black man who died after a Minneapolis police officer dug his knee into his neck. Nationwide protests have called for changes in policing.
Tech giants have invested heavily to develop facial-recognition systems as they battle to lead in a key emerging business. Consumers already use the technology to unlock smartphones and tag friends in photos on social media.
Privacy advocates have long raised concerns that police use of facial-recognition could lead to the wrongful arrests of people who bear only a resemblance to a video image. And studies have shown that facial-recognition systems misidentify people of color more often than white people.
On Wednesday, Amazon said it banned police from using its facial-recognition technology for a year to give Congress "enough time to implement appropriate rules." (Amazon chief executive Jeff Bezos owns The Washington Post.)
A day earlier, IBM said it will get out of the facial-recognition business altogether over concerns about how the technology can be used for mass surveillance and racial profiling.
After those decisions, critics of police use of the technology increased pressure on Microsoft to follow.
"Microsoft also needs to take a stand," Joy Buolamwini, an MIT Media Lab researcher, told The Washington Post. Buolamwini co-wrote a study that found that Amazon's facial-recognition system performed more accurately when assessing lighter-skinned faces.
Both Smith and Amazon in its statement mentioned only a moratorium on police departments using the technology. Neither company said whether the new policies would bar other government agencies, such as the U.S. Immigration and Customs Enforcement, from deploying their facial-recognition technology.
Although Microsoft followed Amazon and IBM, it was the first to call on the U.S. government to regulate facial-recognition technology two years ago. At the time, Microsoft argued that tech giants weren't likely to regulate themselves.
The American Civil Liberties Union, which has criticized police use of facial-recognition technology, called on federal and state lawmakers to ban police use altogether.
"When even the makers of face recognition refuse to sell this surveillance technology because it is so dangerous, lawmakers can no longer deny the threats to our rights and liberties," Matt Cagle, a technology and civil liberties lawyer with the ACLU of Northern California, said in a statement. "Congress and legislatures nationwide must swiftly stop law enforcement use of face recognition, and companies like Microsoft should work with the civil rights community — not against it — to make that happen."
And he said that any legislation should be vetted by the communities most affected.
"No company-backed bill should be taken seriously unless the communities most impacted say it is the right solution," Cagle said.
Like its peers, Microsoft has struggled to balance its relationship with the Defense Department against its employees' ethical and policy qualms about working with the U.S. government. In the wake of employee complaints in 2018 about Microsoft bidding on a giant cloud-computing contract with the agency, Smith made clear that the company would continue to work with the military while looking for ways to ensure its technology is used responsibly.
"We want the people of this country and especially the people who serve this country to know that we at Microsoft have their back," Smith wrote at the time.
Follow us on Kora-now
PlayerUnknown's Battlegrounds update 7.3 introduces C4
There's a new PlayerUnknown's Battlegrounds update coming to the game. And this new update will brings a new throwable called the C4. We had expected the Sticky Bomb which was introduced with the Karakin map to be the C4. But apparently the devs of the game have other plans. Besides this C4, the devs are also introducing new vehicle damage mechanics. There are some new skins and cosmetic items being added to the game as well. 
PUBG update 7.3: Details
Explosion Mechanic Changes
Vehicles no longer explode instantly upon reaching 0 HP. Instead, engines are now disabled and set on fire, causing the vehicle to explode after 5 seconds. Exploding vehicles now receive both linear and angular velocity, instead of only linear (vehicle movement after exploding should look a bit less static now). Additionally, vehicles will no longer receive increased collision damage when they're rolled over. Most vehicles now have multiple damage zones which apply different damage multipliers. 
New Throwable: C4
C4 is an interesting and powerful new tool that gives players new ways to strategically flush out timid opponents. With a massive 25 meter effective radius and damage that can penetrate cover, players will be wanting to run away when they hear this beeping brick of boom. It has a pretty short range, but can be used to cut off enemy entry into a building or new zone, or as mentioned above can force enemies out of their safe positions. 
Parachute Follow Feature
This feature was temporarily removed after its addition in Update 6.2 due to some technical issues. During the pre-match countdown, follow UI will be shown at the bottom left of the screen. Open the map to select a teammate to follow.
Besides this there is the addition of a new Esports Tab and the train system on Vikendi has been updated. All the patch notes can be found here.
Follow us on Kora-now
AI genesis takes traditional Chinese painting in a new direction
Wong created formulas based on factors he considered to be the "genesis" of geological landscapes, like gravity, tectonic collisions, erosion and tidal volumes. A.I. Genesis then uses those formulas to create three dimensional landscapes in its "mind" for each painting. "This is similar to Chinese ink painting practices: conceive a 'mindscape' before painting it," he said in a video (above).
He also trained it to identify the best photographic angle, so after dreaming up the landscape, the system then "wanders" into it to choose the best vantage point. It can then start painting using its robot arm, along with traditional Chinese ink and rice paper. The final works are one-off paintings rather than prints, but Wong is also making them available on Samsung TVs via the "Art Mode" on select models.
"I treat A.I. Gemini as a student, coaching it to master simple brush strokes and programming it to develop its own recognizable style rather than copying the work of ink masters," Wong told ArtPowerHK. "A.I. Gemini's decisions have become autonomous, and the form of its chaotic and wild landscapes are now unpredictable even to me."
Because the machine can paint whatever it wants, some of the works are strongly recognizable as landscapes while others like The Fauvist Dream of Gemini 03(above) look more abstract. While they certainly look more modern, all are identifiable as Xieyi-style works, thanks to the materials used and the long, freehand brushstrokes that resemble what a human artist would do. Wong emphasized that factors like temperature and humidity can also affect the look of the landscapes.
"The landscape does not exist anywhere apart from in Gemini's 'mind,'" Wong explains. "I didn't want my AI to copy me; I wanted him to learn from me. We feed off each other."
Follow us on Kora-now