Apple's iPhone SE and iPhone 11 pro: Compare specs
We compare the specs and day-to-day performance of Apple's iPhone SE and iPhone 11 pro to see how they stack up.
The iPhone 11 Pro is undoubtedly the king of Apple's iPhone lineup thanks to its three rear cameras, all-day battery life and high-resolution OLED screen. But it commands a steep price, starting at $999 (£1,049, AU$1,749). With so many new iPhones out there, including the $699 iPhone 11 and the $399 iPhone SE, you may be wondering which one to choose. I wanted to compare Apple's flagship to the budget iPhone to see what difference that $600 makes.
Realistically, if you want the top-of-the-range iPhone (and it fits within your budget) you probably won't even consider the iPhone SE. But as I found out after using both the 11 Pro and SE for a few weeks, I don't feel like I missed out on all that much when I switched over to the less expensive iPhone.
While the iPhone SE may look like an older iPhone on the outside, don't be fooled. Paired with the same A13 Bionic chip found on the iPhone 11 and 11 Pro, it offers great performance and a very capable camera for an entry-level price of $399. The battery won't last as long as the more expensive phone, but Apple has made some smart trade-offs to keep the price low. 
iPhone SE is the most compact, while the 11 Pro is extremely durable
With a 4.7-inch screen, the iPhone SE shares the same overall design as the iPhone 8. That means the home button is back! Or, it never went away if you're upgrading from something like the iPhone 6 or 7. The iPhone 11 Pro has a 5.8-inch screen and sports the newer iPhone design without a home button.
The iPhone SE has an aluminum frame, while the iPhone 11 Pro is made of stainless steel. All of Apple's phones are covered in custom glass on the front and back, made by Corning, and Apple claims the iPhone 11 Pro has the most durable glass of all. I've dropped the iPhone 11 Pro countless times (both in our formal drop test and when using it for the past six months) and it hasn't sustained any significant damage. 
Even so, I still recommend putting a case on your phone just to be safe, as not all drops are created equal. We haven't yet conducted a durability test on the iPhone SE, but would expect it to perform similarly to the iPhone 8 given it's the same design. (The iPhone 8 suffered a cracked screen when it was dropped from five feet.)
Both phones also offer water resistance, although to slightly different degrees: the iPhone SE is rated IP67, which means it can reach a maximum depth of 1 meter (3 feet) for up to 30 minutes, while the iPhone 11 Pro is IP68, or 4 meters (13 feet) for the same time. But in my extreme water test, I found the iPhone 11 Pro survived much deeper water than Apple claims, so I wouldn't be surprised if the iPhone SE also outlived its rating. Regardless, water damage is not covered under warranty for either phone so don't go crazy trying to test the limits of your phone (leave that to me!).
Winner: The 5.8-inch iPhone 11 Pro hits the size sweet spot for me, even though the iPhone SE is easier for one-handed use.https://www.youtube.com/embed/5C8LhFke3XY
The iPhone 11 Pro has that gorgeous OLED display
The iPhone SE has an LCD liquid retina display, while the 11 Pro has an OLED Super Retina XDR display. There's no question that the 11 Pro's screen looks gorgeous thanks to a contrast ratio of 2,000,000:1 and HDR support. Its OLED tech is able to produce deeper black levels than the LCD on the iPhone SE.
That said, I wasn't disappointed when I switched over to the iPhone SE. Colors look accurate and the screen is easy to read in bright, outdoor light. To my eyes, watching a movie looked better on the iPhone 11 Pro thanks to the screen being physically bigger.
Winner: It's hard to compete with the iPhone 11 Pro's OLED display.
Touch ID vs. Face ID: Home button or facial recognition?
After using the new iPhone SE for several weeks, I count myself among the many people who prefer using a fingerprint to unlock their phone. Face ID is solid, but has limitations despite becoming more responsive as time goes on. Touch ID just works better for me in a lot of situations. Face ID struggles to recognize me first thing in the morning after I roll out of bed — maybe I look drastically different in the a.m., but I honestly don't think I do. (It's also incompatible with face masks.) Switching to the iPhone SE and using my fingerprint to unlock my phone always works.
On the iPhone SE, you do sacrifice screen real estate to accommodate the home button and I noticed the bezels a lot on the SE compared to the almost edge-to-edge screen on the iPhone 11 Pro (even though there's a notch for the TrueDepth camera).
Winner: iPhone SE for seamless Touch ID.
The iPhone 11 Pro has three rear cameras, but do you need them?
There are three rear cameras on the iPhone 11 Pro: ultrawide-angle, wide and 2x telephoto. The iPhone SE has a single, wide rear camera. But as I found when looking at photos from both side-by-side, the difference was not as dramatic as I was expecting.
The main cameras on both phones use Smart HDR to even out shadow and highlight detail. The iPhone 11 Pro produced images with greater dynamic range in challenging lighting conditions, but on some shots, it was hard to tell them apart in terms of color and overall processing. The iPhone 11 Pro has Apple's Deep Fusion processing, which helps to produce sharper shots in medium-lighting conditions (think indoors). Read more on how Deep Fusion works in my colleague Patrick Holland's great explainer.
You can see the difference Deep Fusion makes when looking at the same photo on the SE and 11 Pro at full magnification — see the photo of the orchid below.
Naturally, the iPhone 11 Pro offers greater flexibility when composing your shots thanks to its ultrawide and telephoto lenses. I love the ultrawide perspective and it's the biggest thing I miss when using the iPhone SE.
Also, that camera on the iPhone 11 Pro means you get more flexibility with selfies, like making Animoji and Memoji that mimic your facial expressions, and filming in 4K.
The biggest difference between these two cameras is night mode — the iPhone 11 Pro has it while the iPhone SE does not. Photos from the 11 Pro look way better in low light than those taken on the SE as night mode helps illuminate the scene and deliver a clearer, brighter shot. Stay tuned for my full camera comparison between these two phones coming soon, where I'll also cover video recording and the selfie cameras.
Winner: iPhone 11 Pro if you want different cameras and night mode.
The A13 Bionic chip makes both iPhones blisteringly fast
It's no secret that these phones share the same processor and as a result, I didn't notice significant differences in performance when using them both side by side. I ran a few benchmarks on both phones and the results were close, with the 11 Pro pulling ahead for multicore performance on Geekbench.
In the real world, both loaded apps fast and didn't have any noticeable lag when trimming down a 4K video. In fact, the cheaper SE was a hair faster in my anecdotal test.
Apple doesn't disclose official battery capacity for any of its phones, but we do know the iPhone SE has a similar battery to the iPhone 8. The iPhone 11 Pro, meanwhile, has a higher capacity battery than the cheaper phone. (Unofficial third-party teardowns revealed the 11 Pro has a 3,046mAh battery and the 11 Pro Max 3,969mAh.)https://www.youtube.com/embed/kE53pOCDSRI
There's no question the battery life differs significantly in day-to-day use. The 11 Pro easily got me through a day, sometimes to a day and a half of fairly heavy use while the iPhone SE lasted a full day with lighter use. If I was watching video or using the camera quite a bit, I reached for the iPhone SE's charger to be able to make it through an entire day. Both phones also support wireless charging and fast charging, but only the iPhone 11 Pro ships with an 18-watt fast charger in the box.
Winner: Overall performance feels like a tie, but the iPhone 11 Pro pulls ahead for battery.
Microsoft won't sell police its facial-recognition technology
SEATTLE — Microsoft has joined the list of tech giants that have decided to limit the use of its facial-recognition systems, announcing that it will not sell the controversial technology to police departments until there is a federal law regulating it.
The move, which Microsoft President Brad Smith confirmed at a Washington Post Live event Thursday, follows similar decisions by Amazon and IBM as protesters nationwide press for an end to police brutality and racial profiling.
Smith said Microsoft has not sold its facial-recognition technology to police departments. And the company has backed legislation in California that would allow police use of the technology with some restrictions.
Amazon bans police use of its facial-recognition technology for a year
"We will not sell facial-recognition technology to police departments in the United States until we have a national law in place, grounded in human rights, that will govern this technology," Smith said.
The company plans to put in place "review factors" that Smith said would "go even beyond what we already have" to determine the use of the technology beyond law enforcement.
"The bottom line for us is to protect the human rights of people as this technology is deployed," Smith said.
The decision by Microsoft comes a little more than two weeks after the killing of George Floyd, an unarmed black man who died after a Minneapolis police officer dug his knee into his neck. Nationwide protests have called for changes in policing.
Tech giants have invested heavily to develop facial-recognition systems as they battle to lead in a key emerging business. Consumers already use the technology to unlock smartphones and tag friends in photos on social media.
Privacy advocates have long raised concerns that police use of facial-recognition could lead to the wrongful arrests of people who bear only a resemblance to a video image. And studies have shown that facial-recognition systems misidentify people of color more often than white people.
On Wednesday, Amazon said it banned police from using its facial-recognition technology for a year to give Congress "enough time to implement appropriate rules." (Amazon chief executive Jeff Bezos owns The Washington Post.)
A day earlier, IBM said it will get out of the facial-recognition business altogether over concerns about how the technology can be used for mass surveillance and racial profiling.
After those decisions, critics of police use of the technology increased pressure on Microsoft to follow.
"Microsoft also needs to take a stand," Joy Buolamwini, an MIT Media Lab researcher, told The Washington Post. Buolamwini co-wrote a study that found that Amazon's facial-recognition system performed more accurately when assessing lighter-skinned faces.
Both Smith and Amazon in its statement mentioned only a moratorium on police departments using the technology. Neither company said whether the new policies would bar other government agencies, such as the U.S. Immigration and Customs Enforcement, from deploying their facial-recognition technology.
Although Microsoft followed Amazon and IBM, it was the first to call on the U.S. government to regulate facial-recognition technology two years ago. At the time, Microsoft argued that tech giants weren't likely to regulate themselves.
The American Civil Liberties Union, which has criticized police use of facial-recognition technology, called on federal and state lawmakers to ban police use altogether.
"When even the makers of face recognition refuse to sell this surveillance technology because it is so dangerous, lawmakers can no longer deny the threats to our rights and liberties," Matt Cagle, a technology and civil liberties lawyer with the ACLU of Northern California, said in a statement. "Congress and legislatures nationwide must swiftly stop law enforcement use of face recognition, and companies like Microsoft should work with the civil rights community — not against it — to make that happen."
And he said that any legislation should be vetted by the communities most affected.
"No company-backed bill should be taken seriously unless the communities most impacted say it is the right solution," Cagle said.
Like its peers, Microsoft has struggled to balance its relationship with the Defense Department against its employees' ethical and policy qualms about working with the U.S. government. In the wake of employee complaints in 2018 about Microsoft bidding on a giant cloud-computing contract with the agency, Smith made clear that the company would continue to work with the military while looking for ways to ensure its technology is used responsibly.
"We want the people of this country and especially the people who serve this country to know that we at Microsoft have their back," Smith wrote at the time.
Follow us on Kora-now
PlayerUnknown's Battlegrounds update 7.3 introduces C4
There's a new PlayerUnknown's Battlegrounds update coming to the game. And this new update will brings a new throwable called the C4. We had expected the Sticky Bomb which was introduced with the Karakin map to be the C4. But apparently the devs of the game have other plans. Besides this C4, the devs are also introducing new vehicle damage mechanics. There are some new skins and cosmetic items being added to the game as well. 
PUBG update 7.3: Details
Explosion Mechanic Changes
Vehicles no longer explode instantly upon reaching 0 HP. Instead, engines are now disabled and set on fire, causing the vehicle to explode after 5 seconds. Exploding vehicles now receive both linear and angular velocity, instead of only linear (vehicle movement after exploding should look a bit less static now). Additionally, vehicles will no longer receive increased collision damage when they're rolled over. Most vehicles now have multiple damage zones which apply different damage multipliers. 
New Throwable: C4
C4 is an interesting and powerful new tool that gives players new ways to strategically flush out timid opponents. With a massive 25 meter effective radius and damage that can penetrate cover, players will be wanting to run away when they hear this beeping brick of boom. It has a pretty short range, but can be used to cut off enemy entry into a building or new zone, or as mentioned above can force enemies out of their safe positions. 
Parachute Follow Feature
This feature was temporarily removed after its addition in Update 6.2 due to some technical issues. During the pre-match countdown, follow UI will be shown at the bottom left of the screen. Open the map to select a teammate to follow.
Besides this there is the addition of a new Esports Tab and the train system on Vikendi has been updated. All the patch notes can be found here.
Follow us on Kora-now
Best camera smartphones of 2020: Samsung , Vivo and more
If you are looking for a new smartphone with good cameras like samsung vivo poco and more in 2020, here's a list of the best camera smartphones that you can choose from.
One of the major improvements we have seen on smartphones is the set to cameras on the front as well as the back. Smartphone manufacturers have started including more sensors on the back to offer ultra-wide, night photography, super zoom capabilities and much more. The smartphone cameras have grown to an extent where users do not really need DSLRs until they are doing professional photography.
Samsung Galaxy S20 series
Samsung recently launched its flagship Galaxy S20 series here in India. The series consists of the Galaxy S20, Galaxy S20+ and Galaxy S20 Ultra. While the regular S20 and S20+ already have a great set of cameras, the S20 Ultra takes things to a whole new level. The non-Ultra variants bring 30X zoom capabilities to the table whereas the Ultra brings a 108MP primary camera on the back and has a periscope lens that can zoom up to a 100x.
Samsung Galaxy S20 comes in with a price tag of Rs. 70,499 whereas the Galaxy S20+ is priced at Rs. 77,999. As for the Galaxy S20 Ultra, it will set you back Rs. 97,999.
Apple iPhone 11 series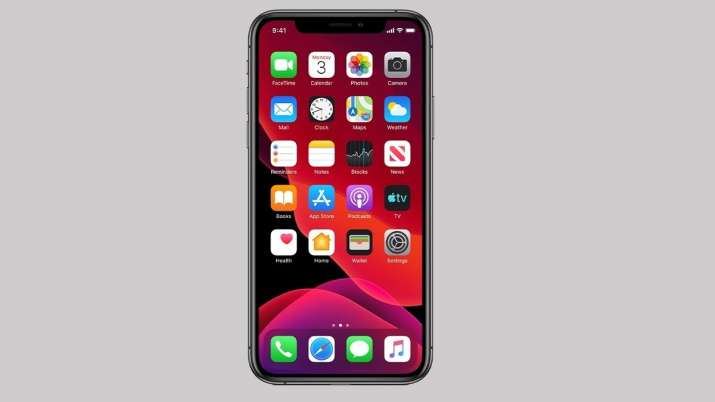 Apple iPhone 11 series offer great video recording capabilities.
Apple recently launched the iPhone SE 2020. However, if you want the best camera experience on an iPhone, you will still need to look at the iPhone 11 series for now. Apple iPhones are known for good video recording capabilities. So, if you are going to record a lot of videos on your phone or you are planning to vlog a lot, you cannot go wrong with the latest iPhone series.
Apple iPhone 11 is available in India for a starting price of Rs. 69,990. iPhone 11 Pro and iPhone 11 Pro Max come in with price tags of Rs. 1,06,600 and Rs. 1,17,100 for the base models.
OnePlus 8 and OnePlus 8 Pro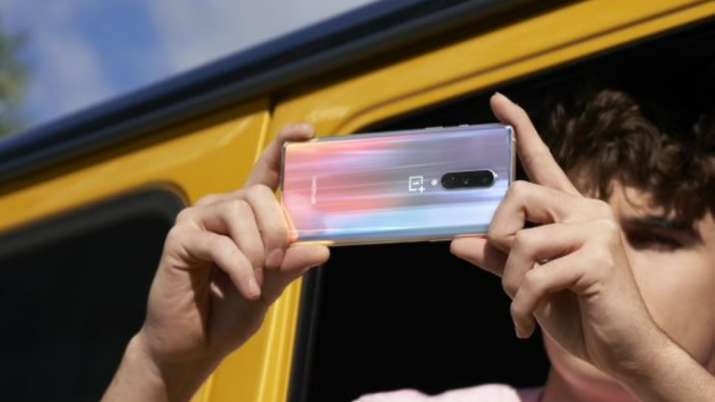 OnePlus 8 series is available for a starting price of Rs. 44,999.
OnePlus has recently launched it's OnePlus 8 and OnePlus 8 Pro smartphones in India. Unlike their predecessors, these are two premium smartphones that are actually competing against the likes of the iPhone 11 and Galaxy S20 series. This also means that the company has significantly improved the cameras on these smartphones. Both the OnePlus 8 and 8 Pro feature 48MP primary cameras at the back.
While the OnePlus 8 is available for Rs. 44,999, the OnePlus 8 Pro will set you back Rs. 54,999.
Vivo V19
Vivo V19 was recently launched in India. Just like its predecessors, this one also concentrates a lot on the cameras. The company has added features like Super Night Mode, Art Portrait Video, Pose Master, Shot Refocus and more on the software front. On the hardware front, the Vivo V19 sports a 48MP quad-camera setup at the back and a 32MP dual-camera setup on the front. 
Currently, the Vivo V19 is available in India for a price tag of Rs. 27,990.
Poco X2
In case you are on a tight budget and need a good camera smartphone under Rs. 20,000, you should check out the Poco F2. The smartphone features a 64MP quad-camera setup at the back. Alongside a good camera setup, the phone also brings in a 120Hz high refresh rate display, Snapdragon 730G and more for a starting price of just Rs. 16,999. 
Follow us on kora-now